University of Tennessee senior and Haslam Scholarship Program honors student (and PatRyanReport family member) Colleen Ryan was interviewed for the Cumberland Viewpoint radio show by Dave Johnson on May 14, 2016. The show aired at 6:00 am on WGSQ – 94.7 ("The Country Giant") in Cookeville, Tennessee on May 15, 2016.
In the 14 minute interview Colleen (@callingryan) answered questions about the Haslam Scholarship Program and her campus activities which include being a founding member of the Diversity Matters Coalition and a co-chair of the Sexual Empowerment and Awareness at Tennessee (SEAT).  She talked about the importance of these controversial organizations and about how the Tennessee State Legislature has devoted time and attention to thwart student and university efforts in these areas.
This post provides an audio recording from the broadcast interview of Colleen Ryan by Dave Johnson, host of Cumberland Viewpoint.
---
***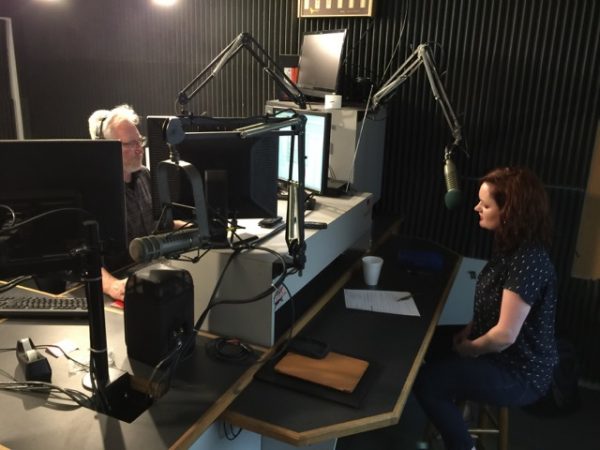 Colleen Ryan talking with Dave Johnson for the Cumberland Viewpoint radio show.
***
Excerpt / Closing Comments:
[Cumberland Viewpoint] Colleen Ryan is one of the founding members of the University of Tennessee Diversity Matters Coalition and is visiting us today. An alumnus of Cookeville High School and a Haslam Scholar at the University of Tennessee.  In our last couple of minutes here, I know that you're aware that you're not going to win any popularity contests in the State of Tennessee right now given the conservative atmosphere of the state and of the State Legislature. Why, in your own words, do you think people in general should care about these issues. A lot of people see this as a distraction, there are much more important things that we should be concerned about.
[Colleen Ryan] I think it's most important because it's important in the broader world around us. I know there are a lot businesses who in the past have eagerly recruited UT grads and are now frowning at this overreach in the State Legislature in considering whether or not UT grads have the cultural competency to do well in an increasingly globalized world.
It's also the lives of students. It's not the trans student who might be held up by the State Legislature as, oh, this is who we are targeting. This is the vast majority of UT students who are impacted by some form of Office for Diversity and Inclusion programming. So it's your neighbor who goes to UT who might receive a scholarship that's administered through the Office for Diversity and Inclusion. It's a broad reach across campus and it's important to UT students.
Micro managing the everyday goings on of UT Knoxville is by no means the most pressing issue facing our state. I would much rather see them improving education in our public schools or working to provide healthcare to Tennesseans, to provide a living wage to Tennesseans — things that should matter to all Tennesseans while we at UT should be taking care of our university, the way we know it needs it.
[From the Cumberland Viewpoint radio show hosted by Dave Johnson.  The show aired at 6:00 am on WGSQ – 94.7 ("The Country Giant") in Cookeville, Tennessee on May 15, 2016.]
***