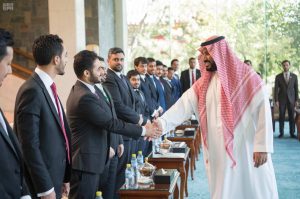 East Asia is on the agenda for Saudi Deputy Crown Prince Mohammed bin Salman. He is visiting two of the world's largest economies – China and Japan – in the coming days for meetings with top government officials and, in the case of China, to lead the Saudi delegation at the G20 summit of leading global economies in Hangzhou.
In Beijing he will meet Chinese officials, sign cooperation memoranda and perform other state duties. In Tokyo he will meet Prime Minister Shinzo Abe, the defense minister and other Japanese officials, and have a ceremonial audience with the emperor. Were it not for the bright spotlight on the G-20 summit and the weight of Chinese commercial ties, Tokyo could have been a major destination all on its own.
Just two years ago, King Salman – who was crown prince at the time – was in Japan for a full week of meetings with Abe, who said: "Over the next hundred years, we are determined to build a new era of relations with Saudi Arabia."
On that trip, which included Prince Mohammed in the delegation, the future King Salman and Abe signed numerous commercial protocols and agreements to accelerate civil nuclear and security cooperation. This followed Abe's visit to Saudi Arabia in 2013 for meetings with senior officials, which led to the "Joint Statement on the Strengthening of the Comprehensive Partnership between Japan and Saudi Arabia."
The statement included both sides' "deep satisfaction with the significant development in their bilateral relations in the political, economic and cultural fields, and expressed their intention to strengthen the comprehensive partnership… in every field."
Beyond oil
It also noted the 2015 celebration of the 60th anniversary of Japanese-Saudi diplomatic ties – outreaching Saudi-Chinese relations by 35 years – as another touch point suggesting cooperation beyond the oil trade. When Abe was in Riyadh in 2007, he said: "One of the aims of my visit is to establish multilayer economic relations that go beyond traditional economic relations that focus on oil."
It is difficult to set aside the importance of the energy relationship. After all, Japan relies on Saudi Arabia for a third of its crude oil imports. However, the Riyadh-Tokyo connection has emphasized a larger set of interests. At the time of the 2007 visit, then-Saudi Crown Prince Sultan bin Abdulaziz said he agreed with Abe that bilateral relations "should be multilayered."
This tradition of looking to bilateral relations beyond oil will augur well for Prince Mohammed. He has intended to use his Vision 2030 tour, which has included the US and France, to cultivate international components of his blueprint to transform the kingdom.
He is still enjoying something of a honeymoon period following his rise to powerful positions when his father ascended to the throne in early 2015, especially as head of the Economic and Development Affairs Council.
In that capacity, Prince Mohammed spearheaded development of a dramatic plan, Vision 2030, to transform Saudi Arabia into a "global investment powerhouse" not "dependent solely on oil," and taking advantage of the younger generation's potential. In the April 2016 launch, he called for transforming the Public Investment Fund into the world's largest sovereign wealth fund, emphasizing diversification and encouraging private sector commercial expansion.
The two sides will sit down in Tokyo this week to discuss their ties and prospects going forward. They will be guided by the history of bilateral ties that searched for areas of cooperation beyond energy. They will also be crafting cooperation to fit the imperative of transformation that is top of the agenda of the kingdom's chief economic officer.
As it was with his visits to other global leaders, Prince Mohammed will likely spend time in Tokyo building support for measures – trade, investment, tech transfer and more – among friends who share an interest in the success of the Saudi reform program, and the young man who is its architect and principal advocate.
________________________
Patrick Ryan is an analyst, commentator, publisher and consultant on international affairs. He has lived and worked in the Gulf at various times since the 1970s during his 26-year career as a US Navy officer and later an independent writer. He has been publisher and editor of the SUSRIS.com project chronicling Saudi-US relations since 2003. He regularly contributes to international media on Gulf affairs and he is based in Nashville, Tennessee. He tweets @PatRyanReport and can be contacted at [email protected]